My bike. A Sequoia!
Like the tree… Solid!
During my trip across Canada, I was often asked questions about my bike and its equipment.
Now that I am back, I have more time to answer your questions.
Here are your questions:
Which bike did you choose and why?
How much does it weigh?
The bike I chose for my trip is a :
Specialized Sequoia 'Gravel Bike' type.
I wanted a steel bike.
Choosing this type of bike rather than a lighter aluminium or carbon one is the price to pay to avoid too much vibration for my body and head.
A steel bike is better at absorbing vibrations, so I was able to make the long trip and pedal for several hours straight.  Otherwise I would have had major headaches (probably more intense than the ones I had).
For a steel bike, it is still light.
Bare, it weighs 12 kilos (25 lbs.); with the pannier racks and all the other accessories I equipped it with (air pump, Clic Stand, speaker, GPS, bottle holders and empty bottles) it weighs close to 18 kilos (40 lbs.) without the contents of the panniers of course.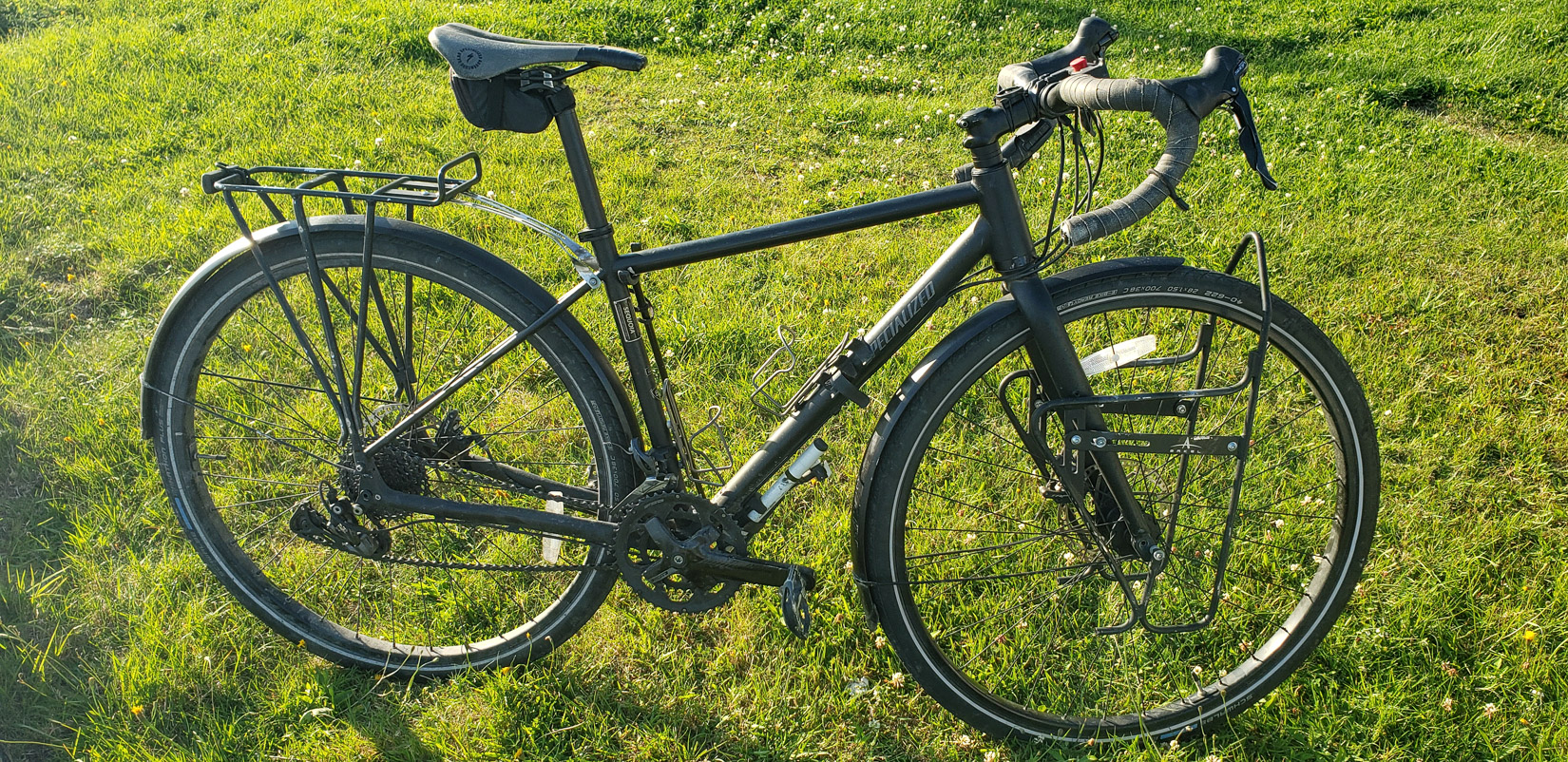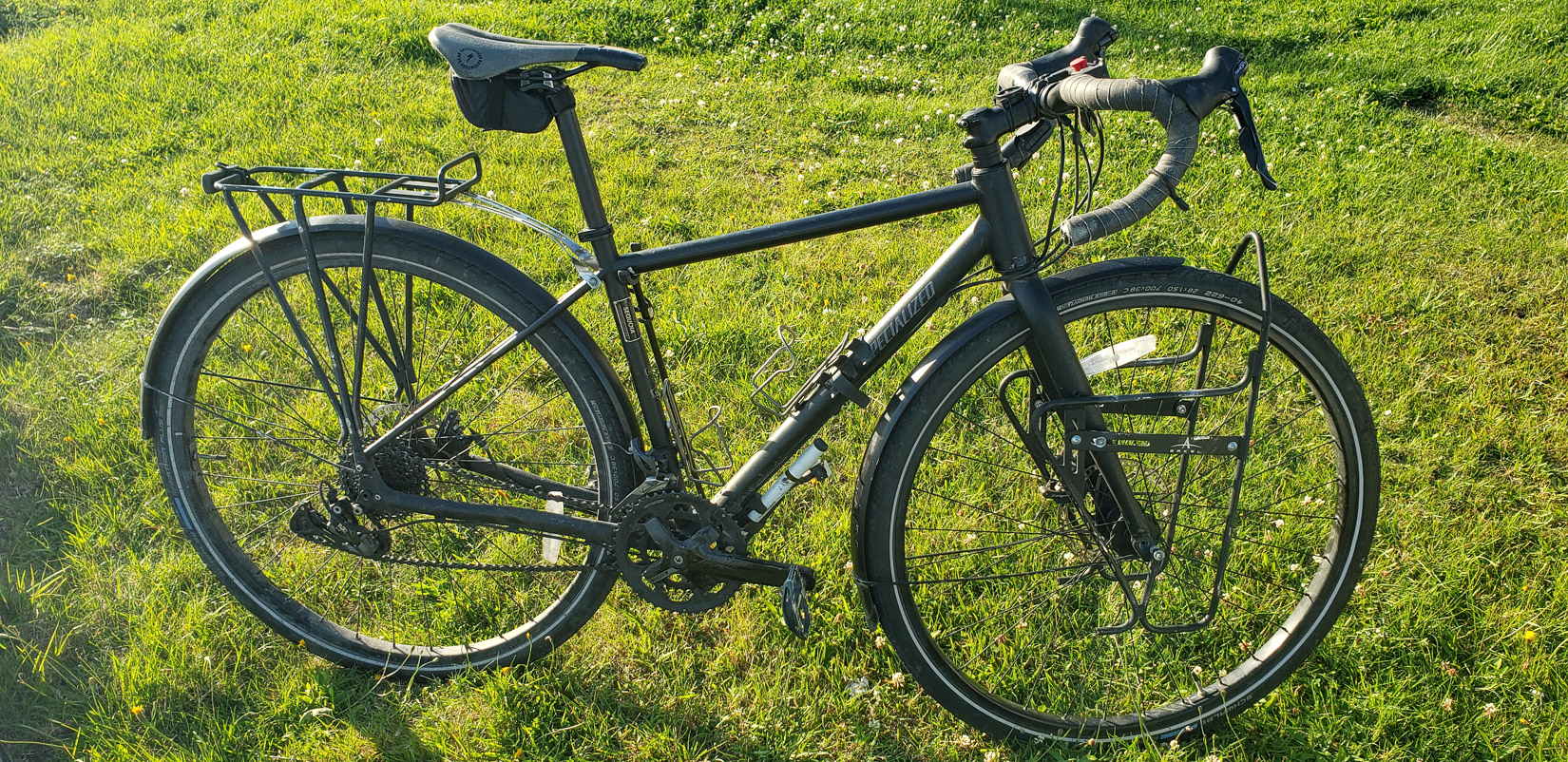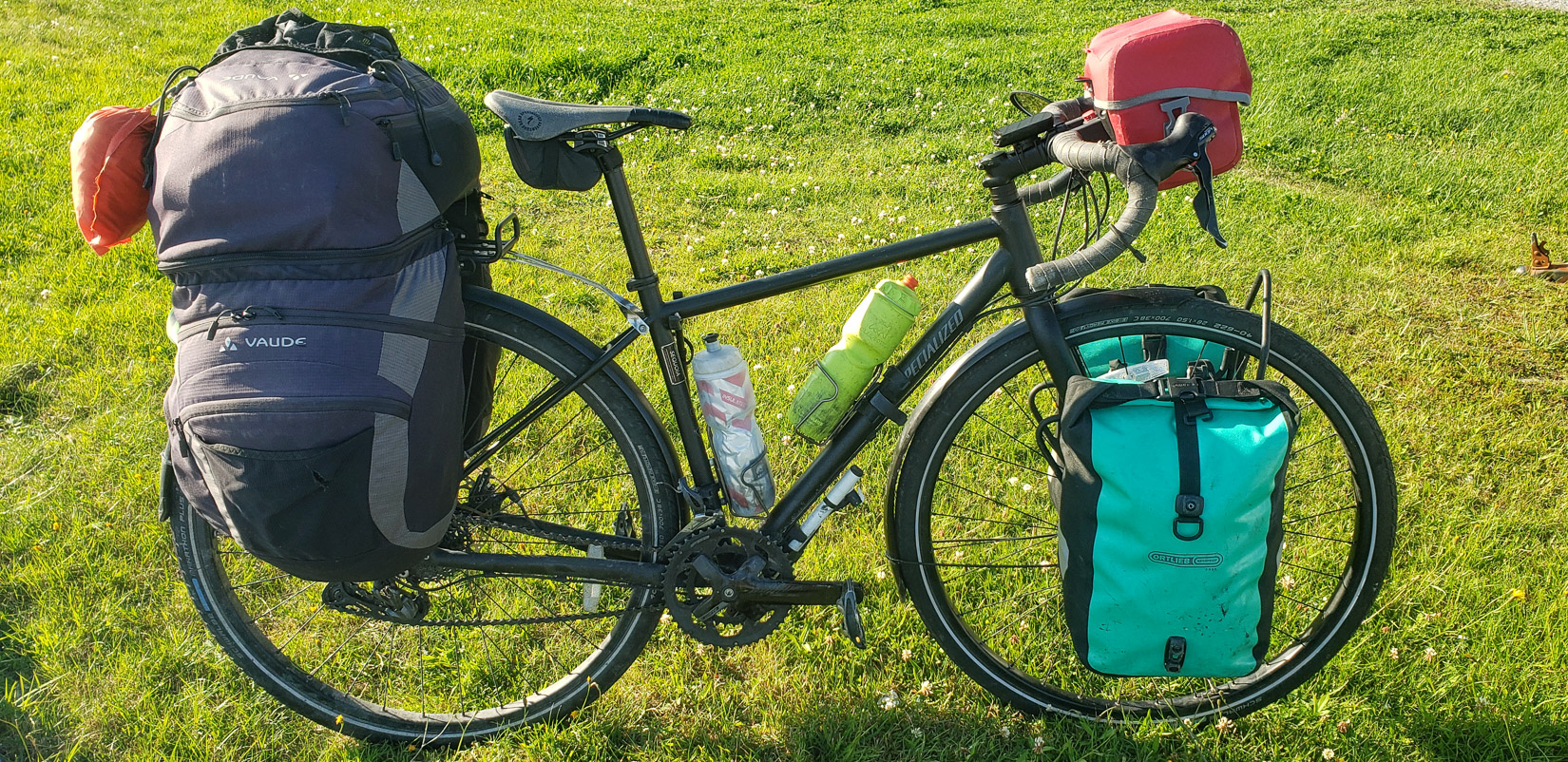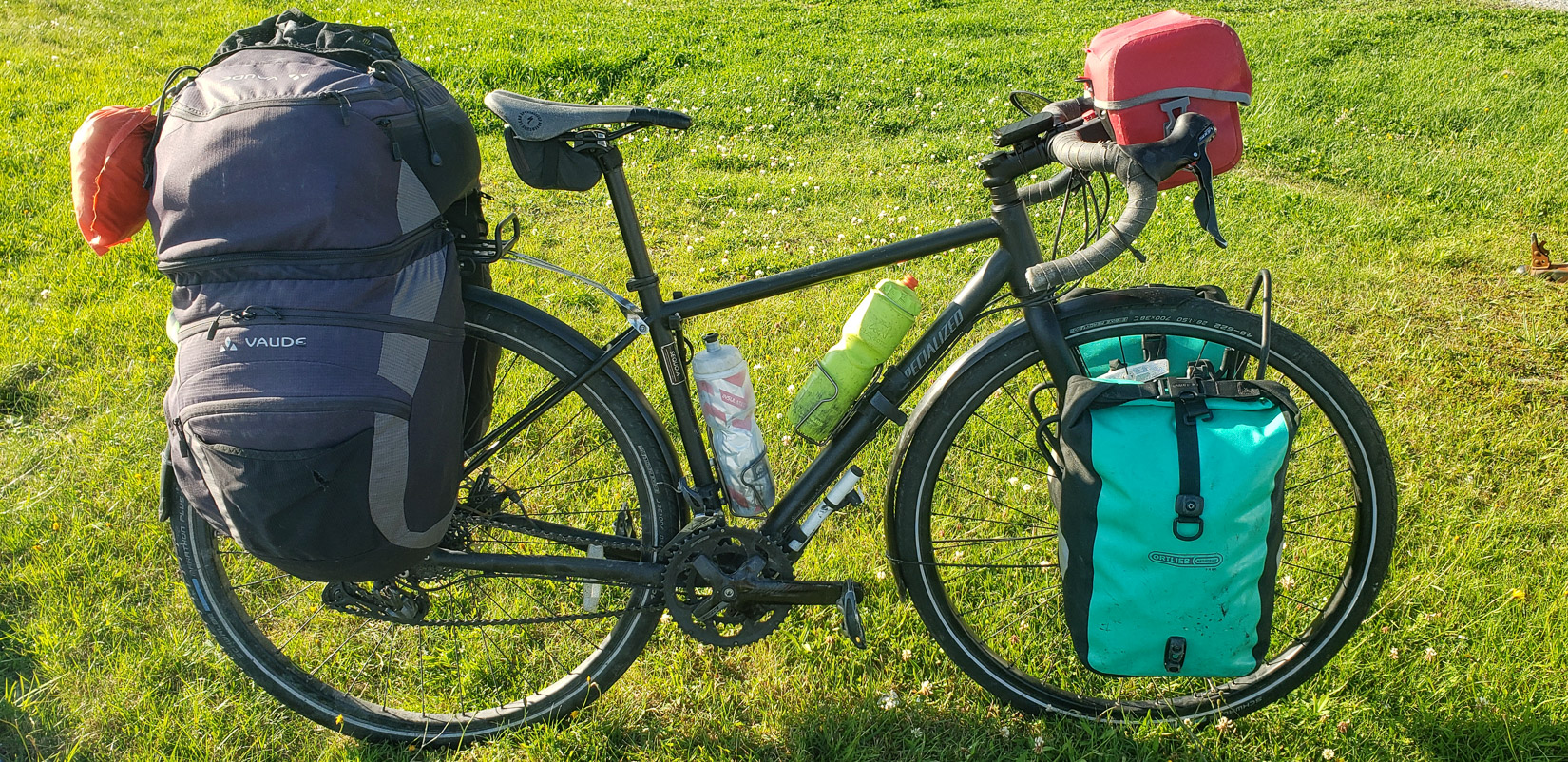 The total weight, including all my gear (water, food, clothes, cookware, camping gear, etc…) is almost 60 kilos (130 lbs.)!  That's a lot of weight excluding the cyclist!
It is equipped with disc brakes; essential to ride safely with weight and on the many downhills of my journey.
What kind of tyres did you choose?
At the beginning, in British Columbia, knowing that I would have to cross the Rockies possibly with snow, the people at Vélo-Gare de Granby suggested the tyre: 'Schwalbe Marathon Mondial'.
I wasn't sure whether to get winter, road or off-road tyres…  This choice was a good mix to adapt to the different types of roads and the various weather conditions.  I found myself off-road with snow on several occasions.  They were even perfect in the heat of the day when crossing the Prairies!  The tyres are still very good, very durable.  But I did change them to ride more easily, to gain more ride comfort.
In the second half of my trip, knowing that I would be more on the road or small gravel, avoiding the off-road which had become more difficult for my head and my symptoms, I changed my tyres for a puncture-proof type, the 'Schwalbe Marathon Plus'.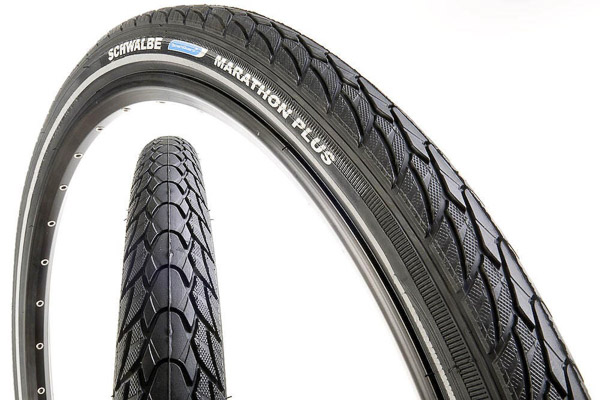 What is your bike rack?
It's a 'Clik-Stand'.
I chose this stand because it's very effective.
Conventional bike stands rarely hold the weight of luggage for long and break quickly in my experience.
I almost always used a branch or a place to put my bike, but this discovery charmed me too.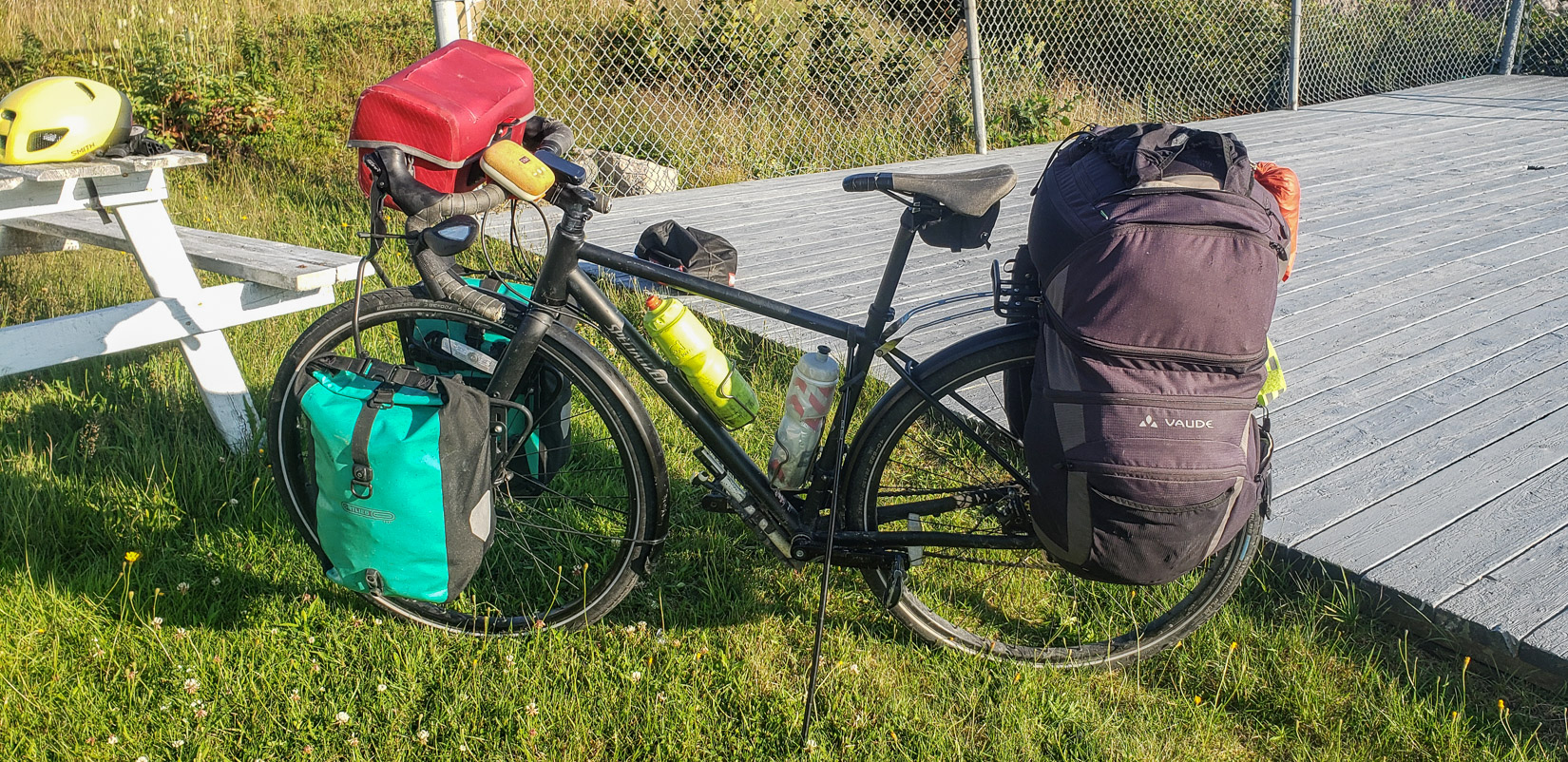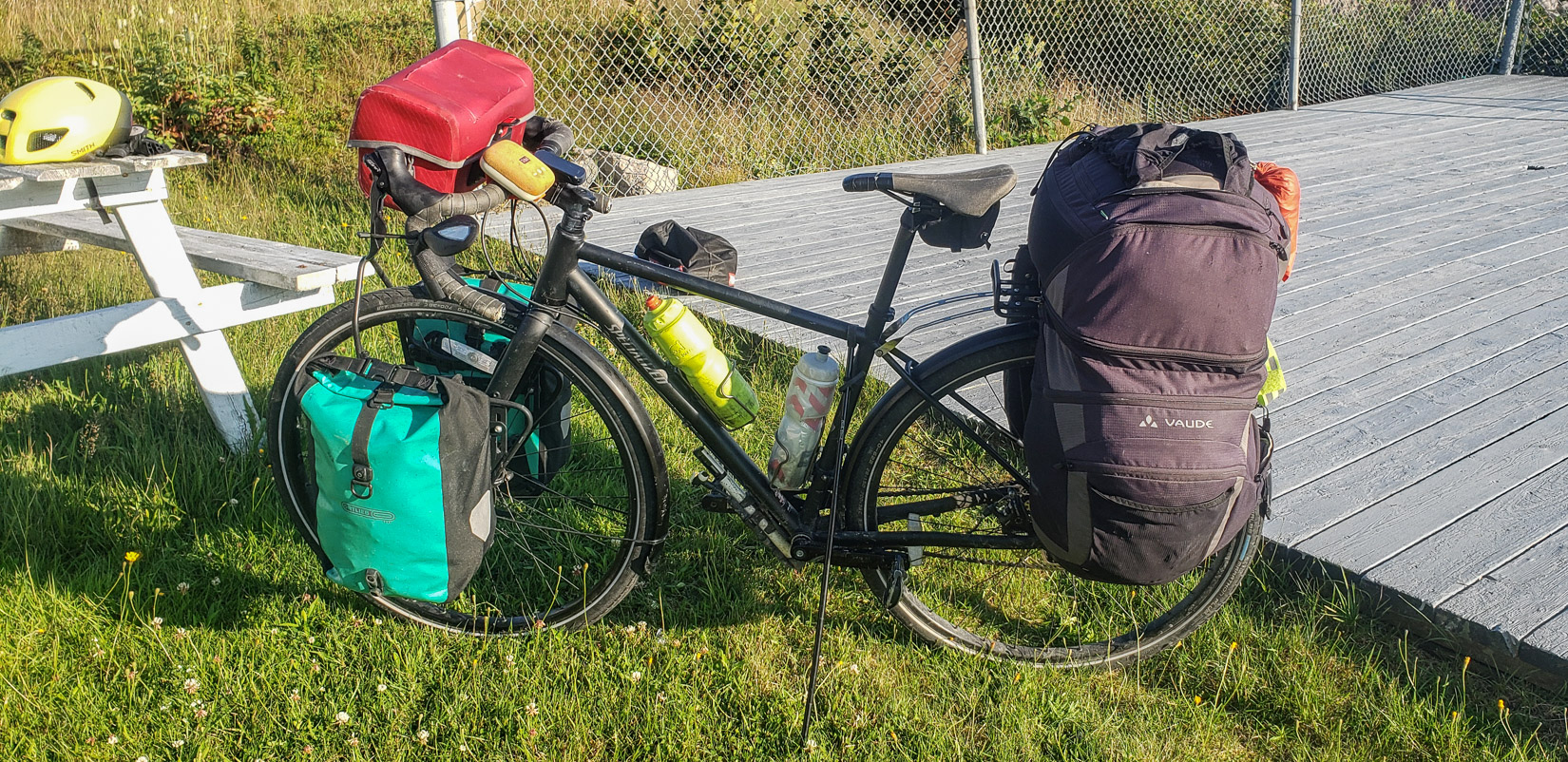 What are your panniers?
– For the rear of the bike :
Vaude Karakorum 65 litres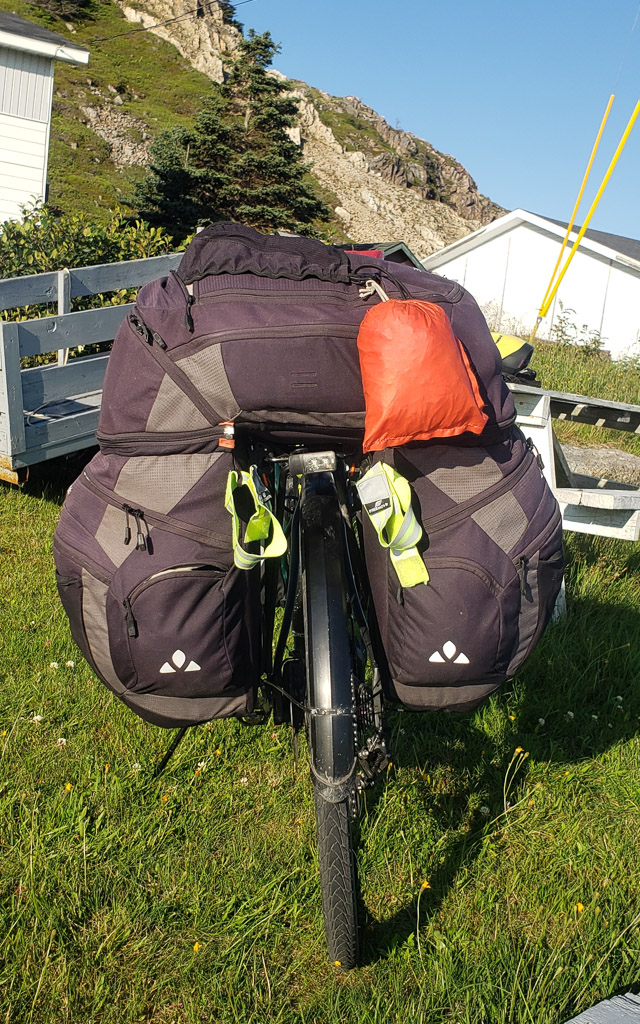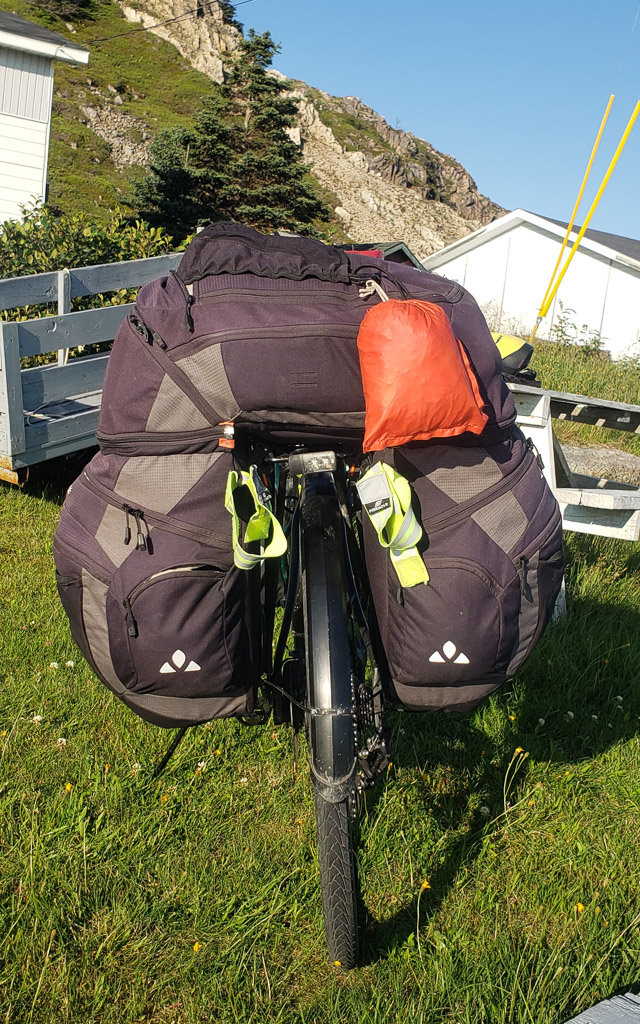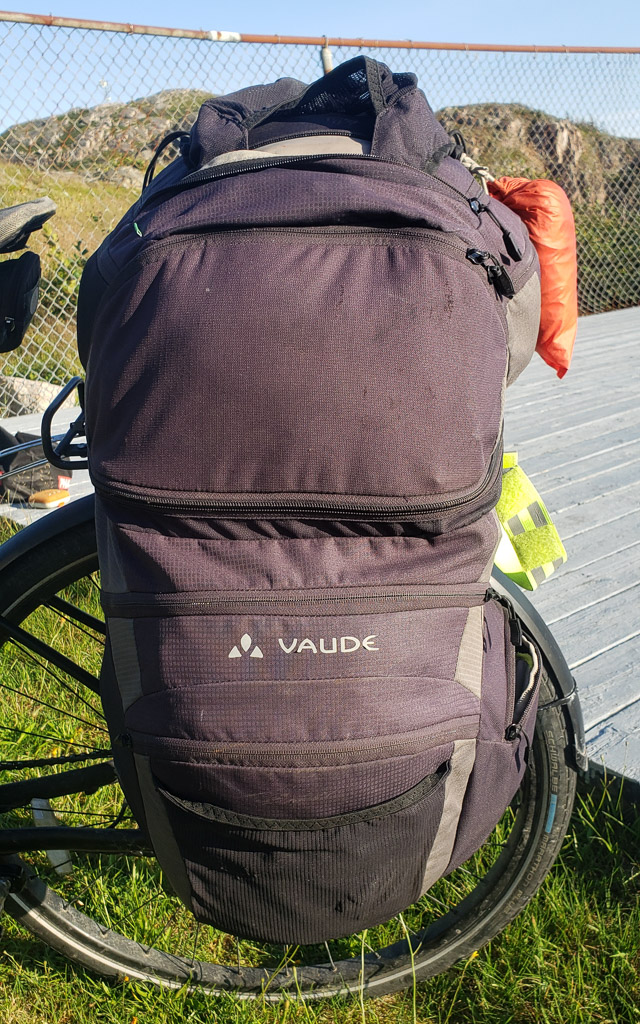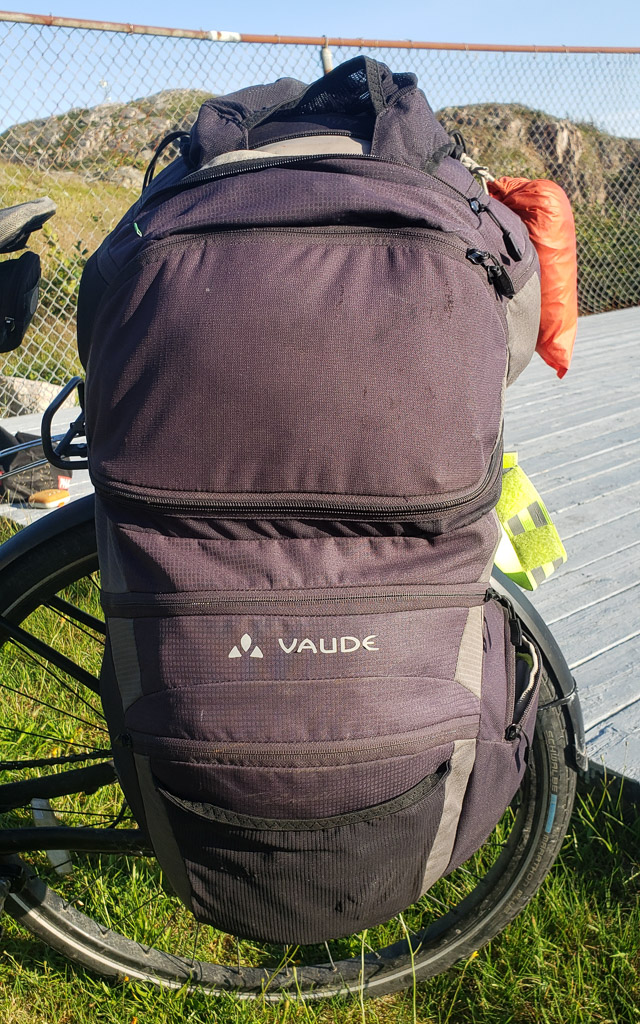 I chose these panniers that Vélo Gare de Granby suggested and offered me nicely at a good price!  I didn't want a separate waterproof bag on top of the rear rack, as I didn't want to deal with the straps and elastics of three separate bags.  So this model charmed me. The bags are connected to each other by the top part, the 'Top Case'.  Well designed, spacious and strong, they do have a flaw in the rain cover, which does not cover the bags well; it is too small and does not wrap them well. Luckily, it didn't rain too much during my six months of travel.
– On the handlebars :
Vaude Aqua Box 6 litres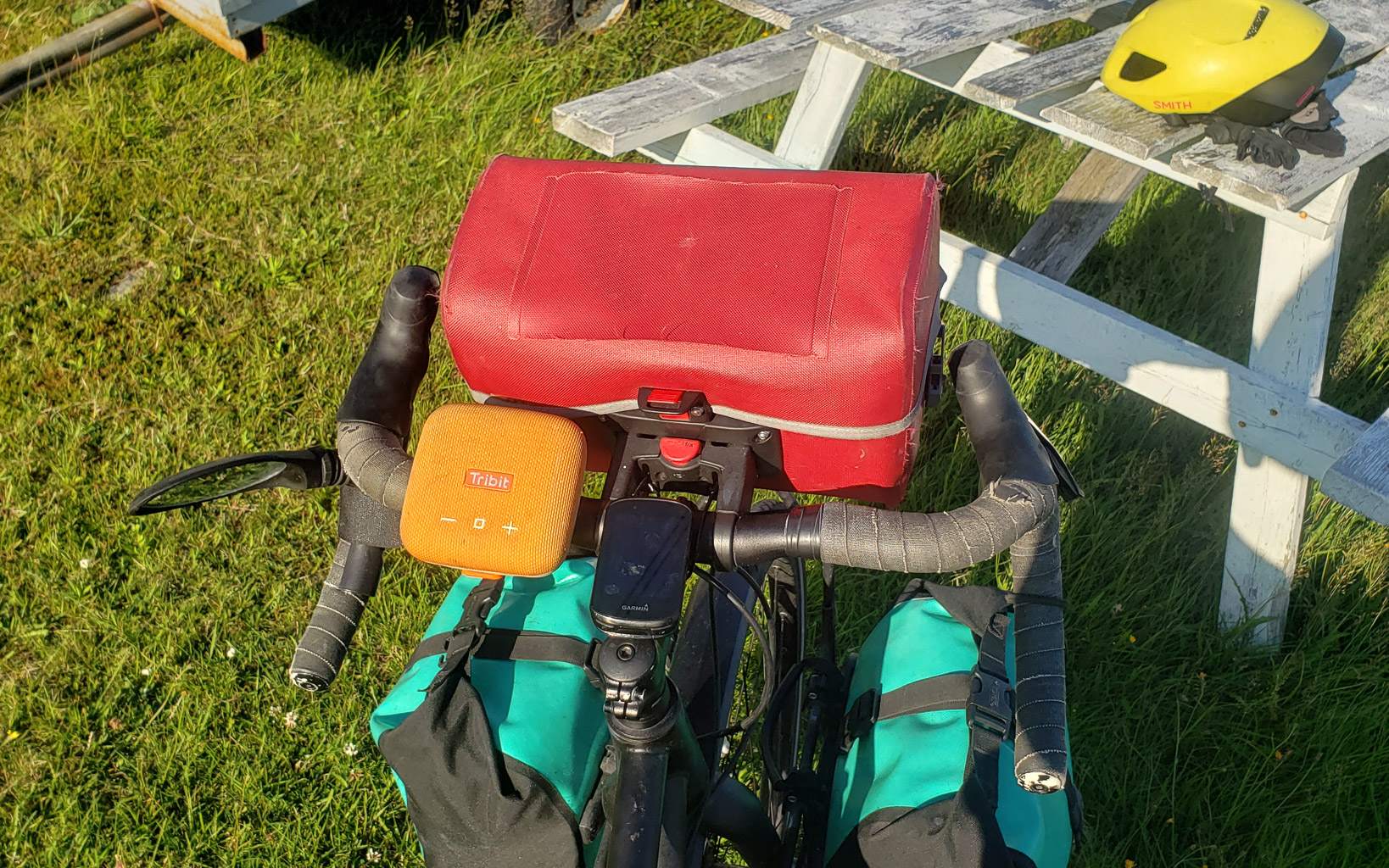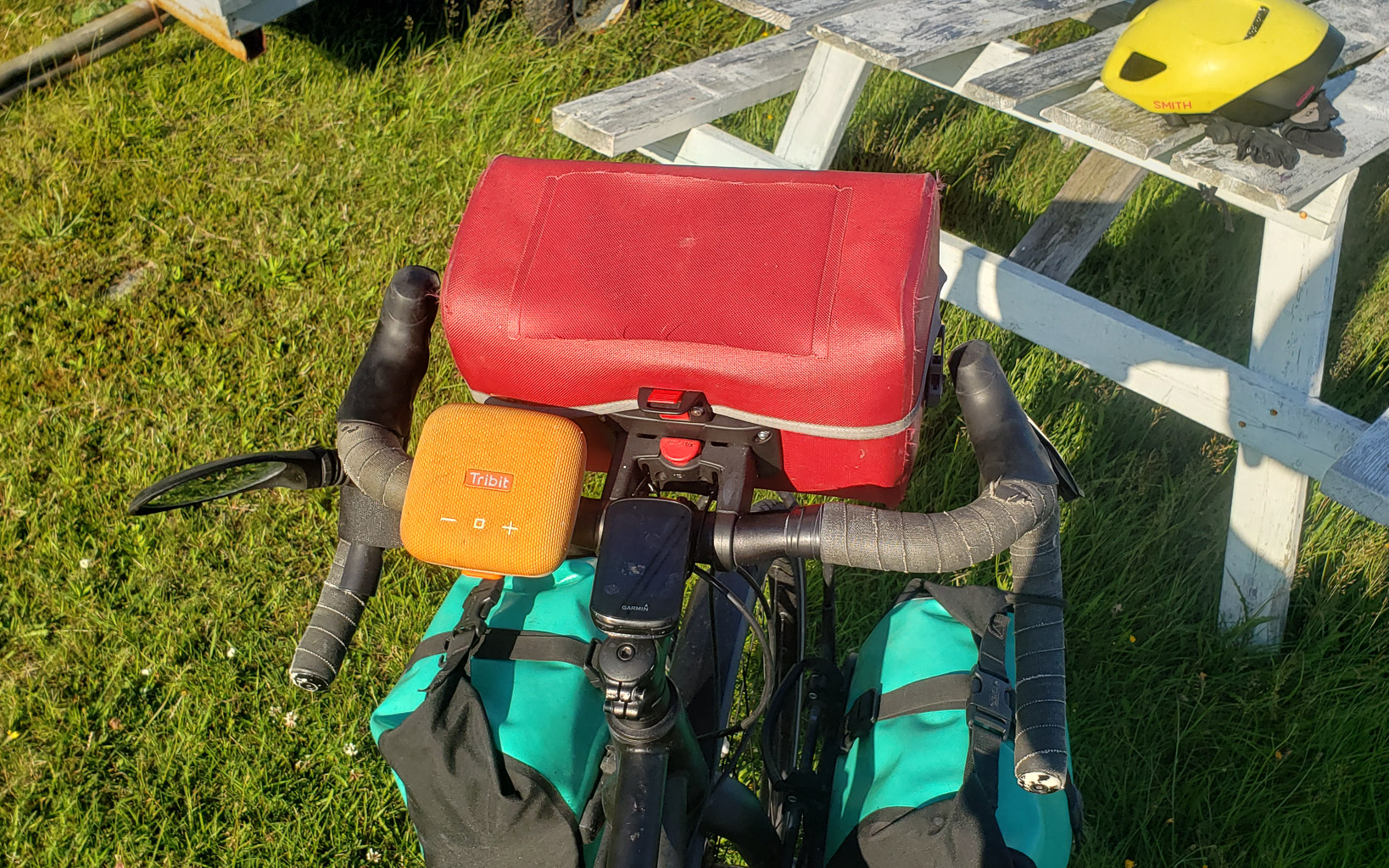 This handlebar bag is really great. Very waterproof and solid.  Spacious and very practical.  I can remove it easily and put items I need to access quickly.
– On the front wheel:
Ortlieb Sport Roller Free 25 litres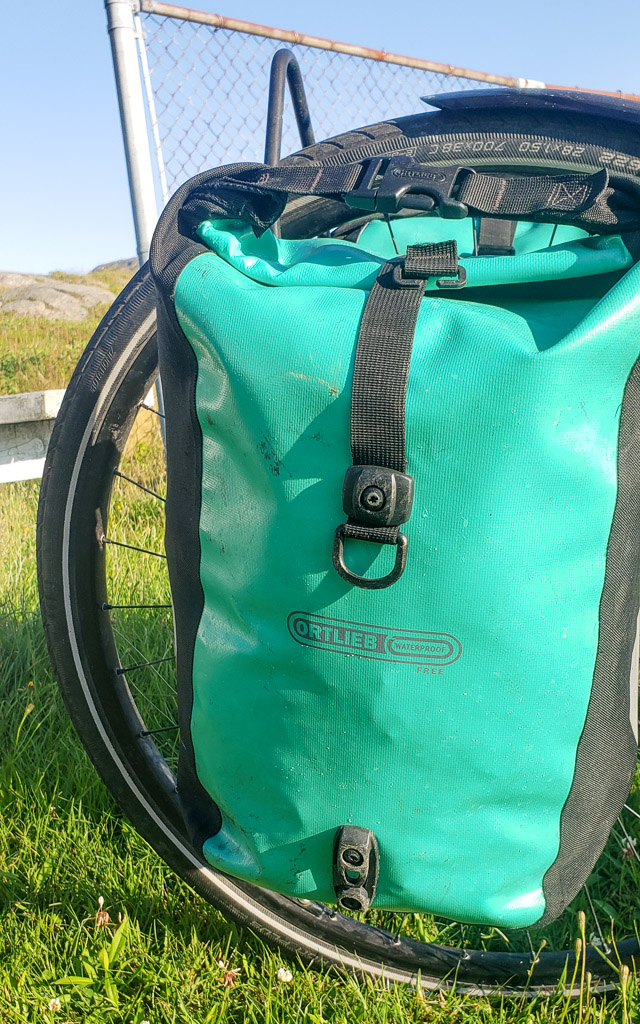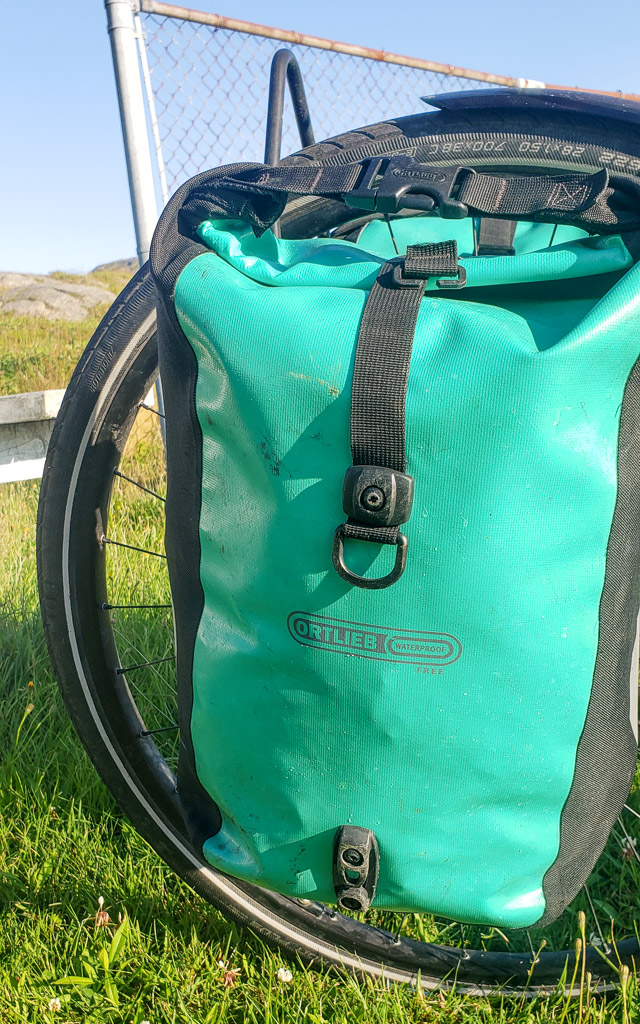 These bags are very waterproof and perfect to put all my food and stuff in so I can cook a good meal.
What is the weight of your luggage?
What is your total weight?
My bike with all its accessories weighs 18 kilos (40 lbs.).
My luggage and its contents were weighed at 36 kilos (80 lbs.).
Then I add the weight of the water which varies from 0 to 7 kilos (for 7 litres of water).  I try to drink a lot on the way up (afterwards too, but that's another story… Haha!!).
And my weight (normally you don't ask this question to a lady!… but for the sake of the cause, I sacrifice myself!) is around 59 kilos (130 pounds).
So, my little paws have grown and pulled about 120 kilos (260 lbs.)!
Phew! Poor little paws… Hahaha!!!
I WANTED IT, I GOT IT, AND I WON!