My New World !
The Peregrines are having fun !
August 27 – to Cape Pele, New Brunswick : 53 kilometres
As I hit the new coast of this province, I ride with a headwind and my thighs burn…  I continue and try to adapt to this new environment, much more populated than the roads of Cape Breton or Prince Edward Island.  The beaches in this part of NB attract a lot of people.  When I arrived in society, I was marked by this tourist crowd.  I had been alone and quiet in my own little world for so long that it was difficult for me.  Moreover, for my first night, I can't find any place to put my tent! I have to resign myself to pay for a small place in an RV campground.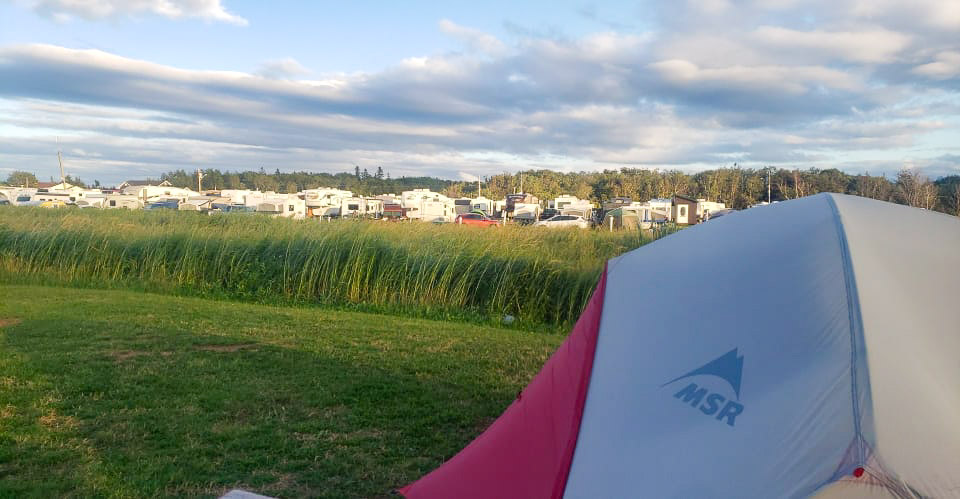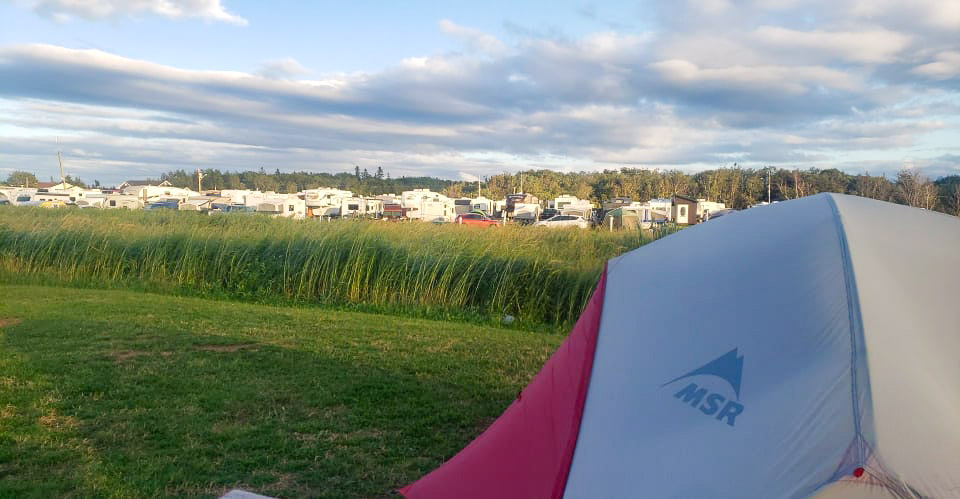 OUF!  It's a bit of a shock… I feel far from the seaside in solitude.  I am happily told that tonight is Bingo and that I must not miss it… they even insist that I stay another night, because the next day, beware… it will be Halloween!
After a joyful night of insomnia, I will take the road again towards Shediac, the lobster capital!
August 28: Cap Pelé to Bouctouche Bay – Shediac
That's it, I have to rest even if friends are waiting for me in the Acadian Peninsula, 150 km from here, but now I have to rest these aching thighs. I decide to rent a small cottage by the sea and spend two nights there.
Shediac is definitely too big for me!  It's the weekend, everything is full, so no rest here for me … and no picture with the lobster … because the queue is too long !  Ha! Ha!!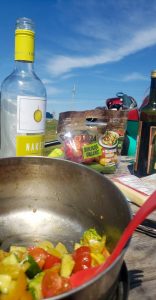 I sit quietly next to this giant lobster trying to return to civilization…  I prefer to put my energy into preparing a good salad, tasting olives and a good bottle of white wine!  This is what makes me feel back in this life of ease and lust!
I still breathe in the smell of freedom and happiness!  The sea by my side, the music in my ears, my choice of lifestyle and this desire to connect with people urge me to come back to you my friends!
Before the big return, I have a stop to make in the Acadian peninsula to see a couple of friends I met a few years ago!
August 30: some 150 kilometres later… Neguac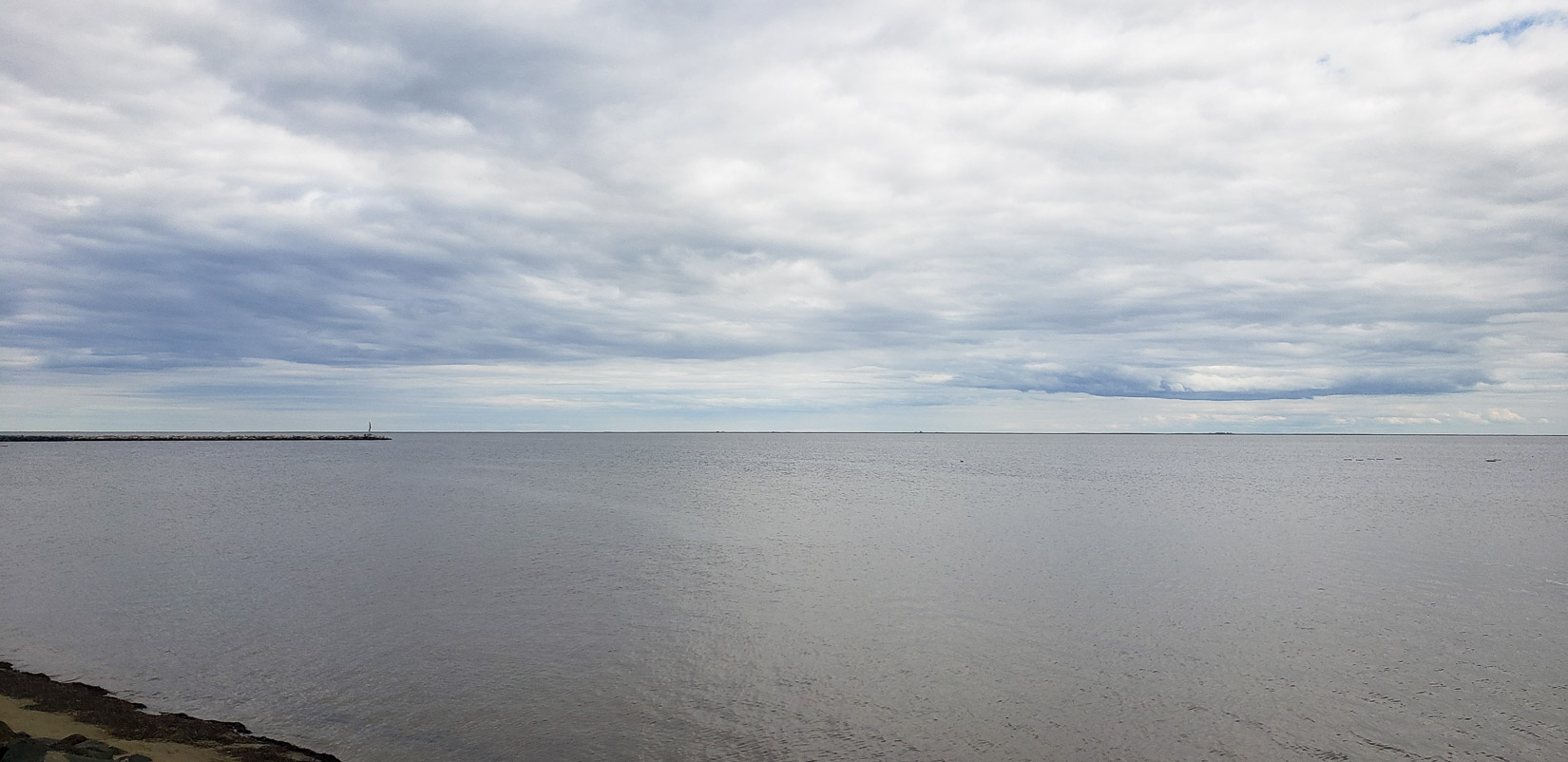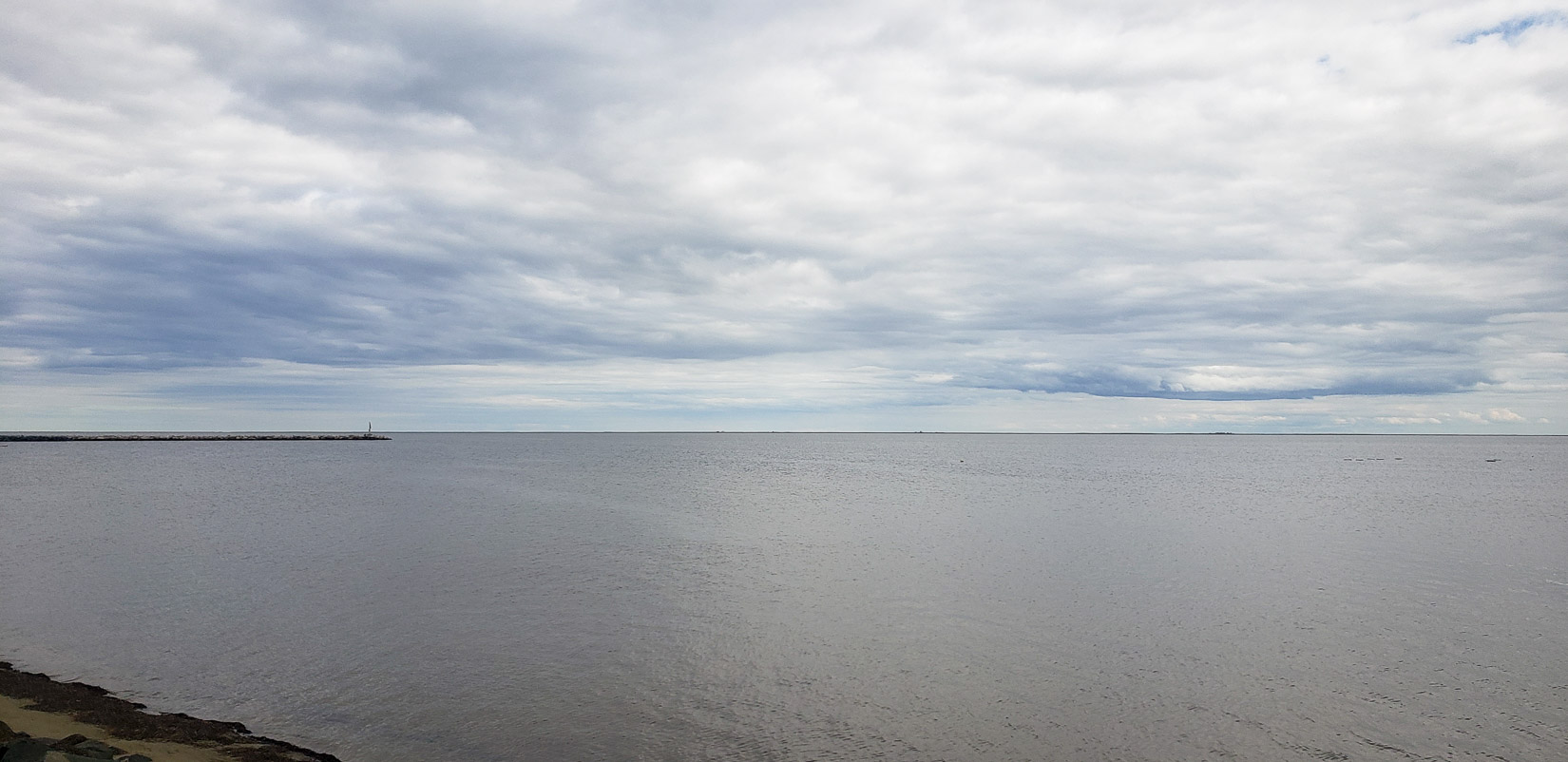 What a welcome… for my arrival in Acadia in the family of my friends!
The connection with this family is unbelievable, we are so different, but we share the same values… I feel like I've arrived at home…  I don't like to sleep in people's houses, even in the houses of my long-time friends.  I feel at home with these friends who welcome me with incredible generosity!
My lack of self-confidence and my fear of disturbing people, which is so obsessive, is softening and I feel very well among them!
Several events, including one that takes place the weekend after my arrival, make me stay several days… eight days to be precise.
I became even more friendly with this incredible family.  This created a balm on my lack of confidence in myself…  And I discovered new tastes thanks to the 'Nashville de Lagacéville' !
I thank them for this beautiful moment and I leave filled with gratitude!
I even celebrated my birthday there, as I don't let myself celebrate easily.
After such a beautiful week 'with the family', my stay ends on a beautiful Monday in September, under the rain, by taking the road back to Quebec.
The Matapedia Valley awaits me with its infinite beauty!
And a little further on, the St-Lawrence river that will take me back to my home…
The return is close, very close…
But so far…
for my tired legs, my body, my head…
despite all the Love in the World.